I did a lot of research before traveling to South Korea, and of course, I expected to do the usual—see the main tourist attractions, eat the local cuisine, etc. The part of my itinerary that I did not expect was how often I'd be hitting up themed cafes in Seoul. But the more I found out about them, the more they moved to the top of my to-do list. After experiencing them in person, I'm hooked! Here are my favorite picks for themed cafes in Seoul.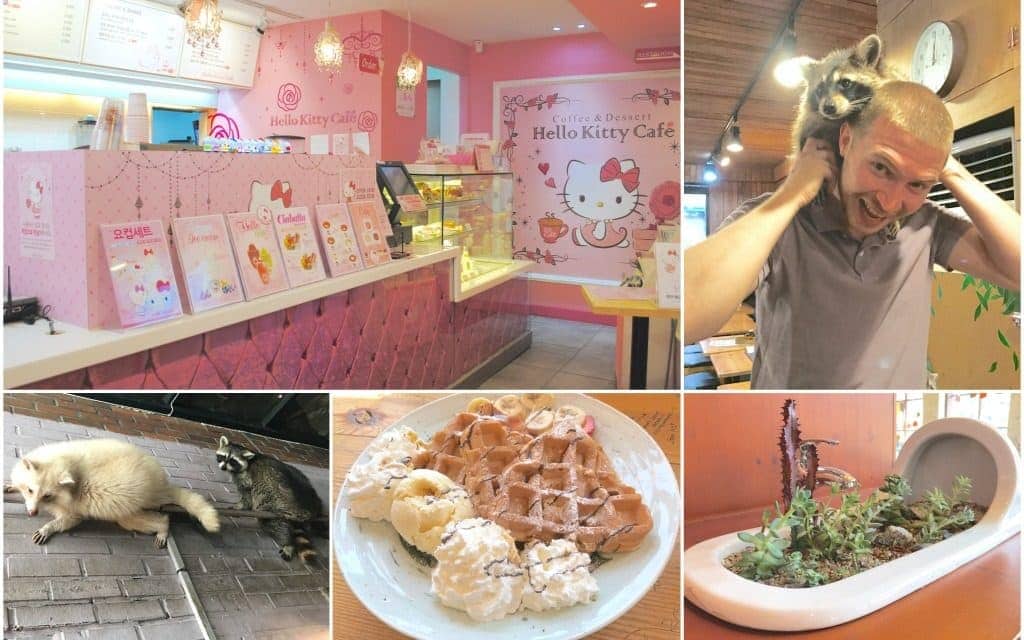 Raccoon Cafe
By now, you're probably familiar with the animal cafe craze in Asia. (If this is news to you, then get ready, because cat cafes have already begun popping up in the U.S.) There's one type of animal cafe I came across that is unique even for overseas, and that is Blind Alley, Seoul's renowned raccoon cafe. While many of these establishments use the term "cafe" rather loosely, Blind Alley actually is a legitimate cafe with an actual menu. My husband and I ordered drinks and a honey bread, and everything we got was delicious! But we were eager to get to the raccoons, so we ate quickly before heading to the main attraction.
The raccoons are kept in a separate room that you enter through the back of the cafe. There are three raccoons—one of them is all white, and the other two have regular coloring. I read reviews online that said the white one is mean and known to bite, so we kept our distance from that one. The room is basically one big playground for the animals. They have ropes and pipes up high so they can climb from one corner of the room to the other. We were given food to feed them and shown how to hold it in your hand so the raccoons can "dig" for it—a truly bizarre feeling to have their little paws digging for food in your hand! The cafe is a little out of the way, but definitely worth it.
Poop Cafe
Yes, you read that correctly. There is a poop themed cafe in Seoul, which you may find utterly revolting or completely intriguing. I was among the latter. I looked it up online ahead of time, and when I saw the toilet shaped coffee mugs, I was sold. It's just too unique of a thing to experience, I couldn't pass it up! The cafe is called 또옹카페 or Ddo-ong Cafe. It's a little difficult to locate, so look for the Ssamziegil Mall in Insadong. Go into the courtyard, look up, and you'll see the cafe on the top floor.
On the menu, you'll find normal cafe fare like lattes and teas, and then some more unusual items like spaghetti… served in dishes shaped like toilets. I wasn't quite sold on ordering pasta at a Korean poop cafe, but hey, maybe that's just me. Instead, I ordered a rose latte for myself, a mojito latte for my husband, plus a waffle and an order of scones to share. My husband wasn't a fan of his drink, but the rest of what we ordered was delightful and oh so Instagram-worthy. No shame. When are you ever going to be at a poop cafe again? It has to be documented!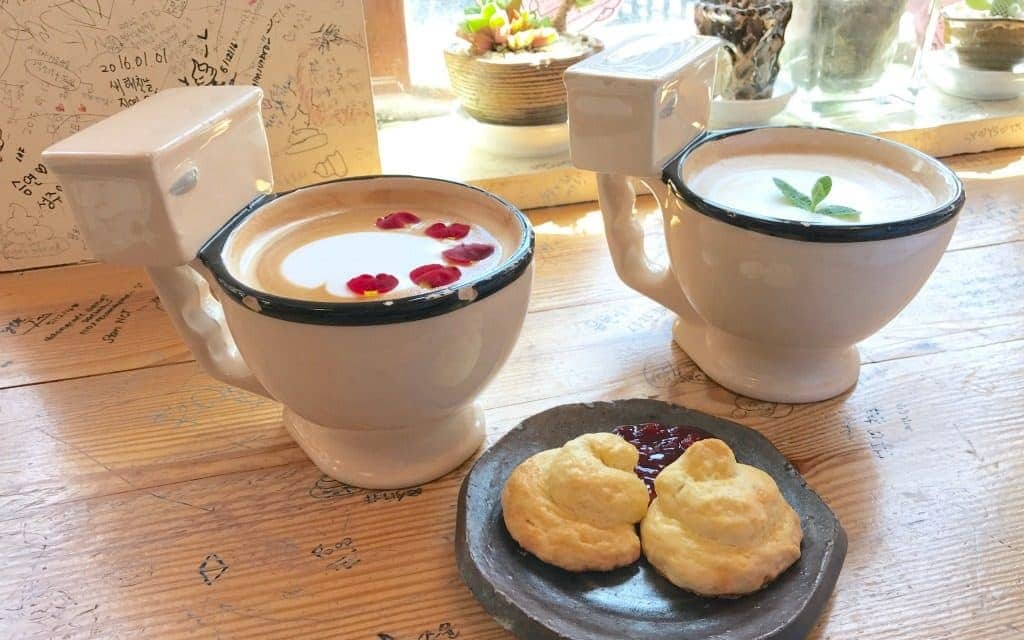 Hello Kitty Cafe
We threw this one in as somewhat of an afterthought. I've never been a huge Hello Kitty fan, more of just a bystander who happens to be aware of its existence. So, it wasn't necessarily at the top of my list. But as far as interestingly themed cafes go, this one definitely fit the bill. There were a couple Hello Kitty Cafes we could have gone to in Seoul—one in Hongdae and one in Myeongdong which was minutes from our hotel. We decided to walk there one morning, just to check it out.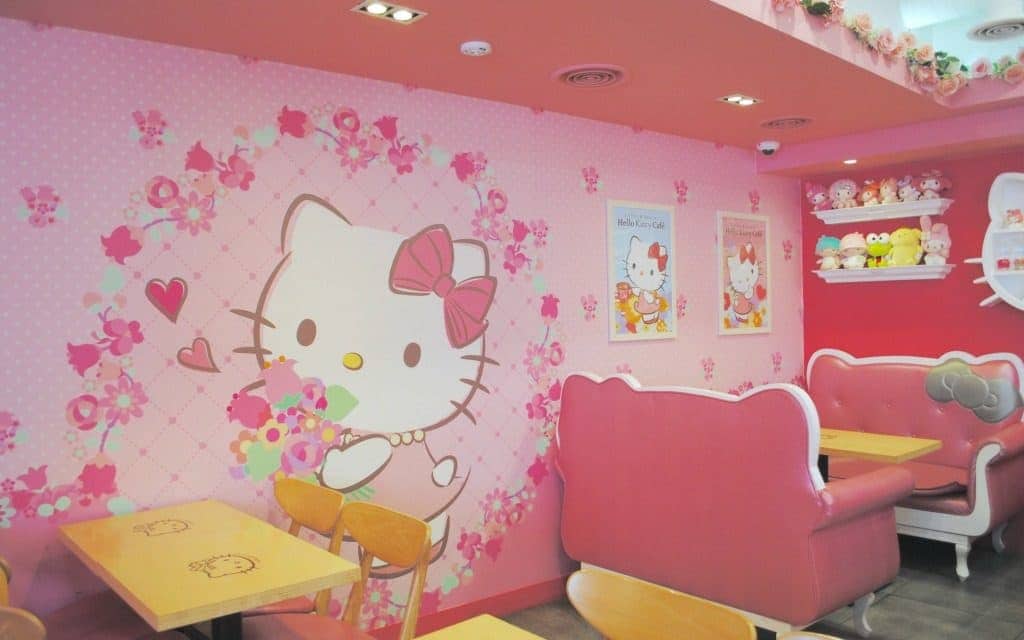 The entire cafe was decked out in pink, just as you'd expect, and it was 100% adorable. The decor was unapologetically cute, with pink roses, pink chandeliers, and pink couches shaped like Hello Kitty. I think it would've been wrong not to order at least one pink item from the menu, so I opted for the Hello Kitty shaped strawberry cake (which was surprisingly light and fluffy, not what I was expecting at all). And obviously for photo's sake, I had to order a caramel latte with Hello Kitty dusted onto the foam. Cute with a side of cute!
Dessert Cafes
One thing you're bound to notice in Seoul is the number of cafes. They are everywhere! You'll see streets full of them and wonder how it's even possible to drink that much coffee! While I'm not that big into coffee, I most definitely have a sweet tooth. So, the discovery of Seoul's dessert cafes was a constant temptation, particularly because they're open at night. There's no excuse not to give into those late night cravings! Since we stayed in Myeongdong, we went to a dessert cafe called Cafe Coin located in the heart of Myeongdong's shopping district.
We went at 10:00 at night, and even then we had an hour before closing. This still blows my mind how late things are open in Seoul! Even though the streets are bustling with street vendors, tourists, and shops blaring loud music, you would never know from the inside of Cafe Coin. It offers a perfectly calm respite from the craziness outside. We loved it and wished we had discovered it earlier in the trip. My husband ordered a strawberry waffle at the recommendation of our waitress, and I ordered the strawberry flakes, not knowing what that meant but eager to try something new. We were not disappointed!
Of course, there are plenty more themed cafes in Seoul we didn't have time for, so please share in the comments below if you went to others that are worth a visit! There's a sheep cafe I had my eye on… but it'll have to wait until my next trip!
Travelocity compensates authors for their writings appearing on this site; such compensation may include travel and other costs.