While long vacations can and should be a blast, getting ready for them usually isn't. We've asked men's lifestyle and travel blogger Joe Miragliotta of JoesDaily.com to tell us about how he packs for lengthy trips and give us some guidance in making the process a little easier.
If you've ever had the pleasure of going on a long vacation, then you know there are a fair share of stressors that come with the preparation. There's making sure your pets and plants are going to be cared for, stopping the mail, getting someone to look in on the place every now and again, cleaning the fridge, adjusting electronics…and that's not including anything to do with the actual trip itself. While this list isn't going to help you with those other things (though, article idea, no?) what it will help you with is making sure you can leave knowing at least your luggage is setting you up to have the best time possible. So, here you are: 8 packing tips for long vacations!
1. Bring an Extra Bag
Whether your vacation involves visiting lots of different amazing places or you're simply planning a venture to just one, chances are you're going to want to bring home a few souvenirs. Making sure to include an extra—preferably, collapsible—bag while you're packing is absolutely going to save you some stress when the time comes to go home. Especially if you happen to be a late packer, having to run out and grab something for all the treasures you picked up during your excursion is a good way to put a sour note on the end of an otherwise happy trip.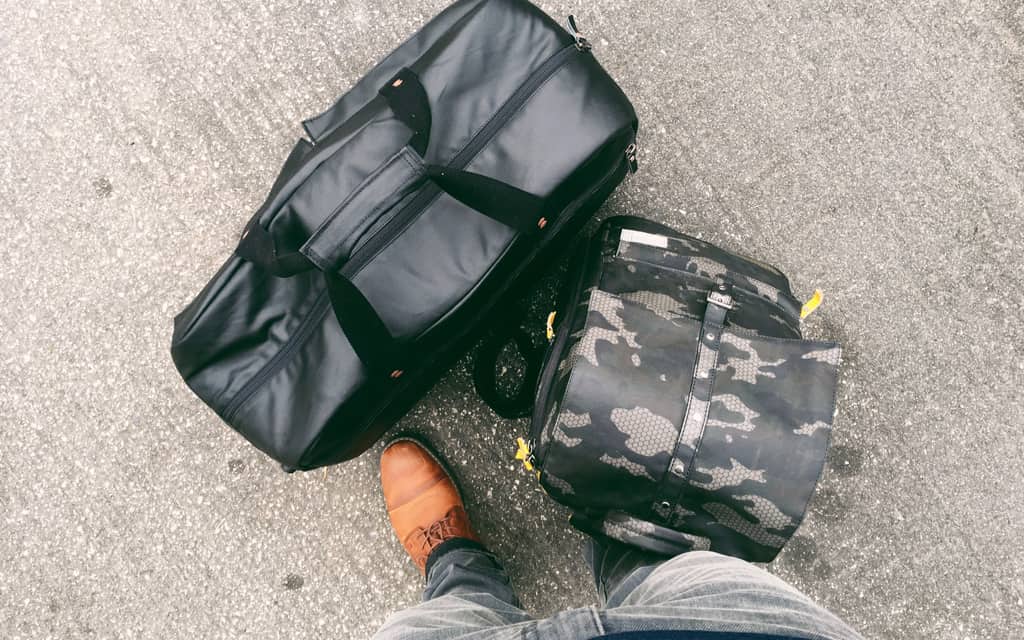 2. Prepare for Lost Luggage
I have to admit, despite packing a comprehensive carry-on being such a standard practice for any kind of travel where you'll be separated from your larger suitcases, I haven't always been great about this one. The notion is, if you're going to be in a situation where you're going to be away from the bulk of your luggage for any amount of time (think flights, particular where you're changing planes), then you need to keep 'emergency' supplies with you. This means a change of clothes, a couple pair of underwear, some toiletries, and medications should all be in tow with you. Also in that bag: items you couldn't handle losing for good. So, basically anything expensive or personal should also be in there.
While lost luggage isn't the most common occurrence, it definitely still happens. That said, I'd highly encourage you to check out this article I wrote a little while ago, on how to prevent luggage from getting lost and how to make your life a little easier if it does.
3. Check Weather and Long-term Trends
Okay, so you're probably already doing the first part of this one (if you're not then, yeah, better start) but what about the second? A typical weather forecast is arguably only close to being accurate about five or ten days out and, if you're going on an extended holiday, you're going to be gone a bit longer than this. Solution? Check out the long-term trends for that time of year. While the weather might be warm and sunny in the days immediately after you've packed, the end of your trip might be dipping into a colder wet season—and that's assuming you're staying in only one place.
4. Capsule Wardrobe
Regardless of what kind of holiday you're going on or how long you'll be gone, packing a capsule wardrobe is always going to be a good idea. For those unfamiliar, the concept is to choose a limited number of clothing items that can all be mixed and matched for completely different outfits. If it's done correctly, a person could get dozens of different looks out of just 5 items. The key to creating a successful capsule wardrobe is to focus on layering and keeping bold patterns to a minimum; however, you'll also want to keep stain-forgiveness in mind as you're probably not going to have access to the same laundering facilities as you would at home. Ideally, when you're done putting everything together, you'll be all set for any range of situations—from walking around a hot city to dinner in a nice restaurant.
5. Bring a Way to Freshen Your Clothes
The specifics here will vary a little depending on the type and length of your trip (redundant at this point, I know), but the main idea is to be able to give your clothes a refresh while you're still away from home. In the event that the trip I'm going on is only around a week or so, I find that I can totally get by with just a bottle of fabric deodorizing spray. However, when I'm traveling for longer periods of time, I always bring a small bottle of gentle laundry detergent with me. The 'gentle' aspect is important because I do my washing by hand in the sink and don't want to take in any unnecessary chemicals via my hands or lack of thorough rinsing. If the thought of going about it this way isn't appealing to you, or if you won't have access to a sink where you are, a portable washing bag is also definitely worth looking into.
6. Bar Toiletries
While I haven't quite jumped on the bar toiletries bandwagon with my wife when it comes to my ablutions at home, I have to say, I find their practicality for long trips pretty awesome. Even in their whole form they don't take up very much room. Add in the fact that they last forever so you'll only need to bring a portion of them for a month-long holiday and they're already much more appealing than their bottled counterparts. The icing on the cake? As they're solids, they can go right into your carry-on without any worry of surpassing the dreaded 100ml liquid limit. My only word of caution in switching to bar toiletries for travel is to—like with any traveling toiletries—be sure and test them before you leave. The last thing you want is to find out the shampoo you got refuses to work with your hair or the shaving bar gives you razor burn.
7. Packing Cubes
Speaking of bandwagons: have you been introduced to packing cubes yet? To be honest, I didn't really see their point when I was gifted my first set. Especially when I would be packing a full bag, wouldn't they just take up valuable space? In fact, if nothing else is changing about what I'm packing, why were they even necessary at all? Well, let me tell you, I couldn't be happier I gave them a chance. Turns out, the exact opposite of my initial concern was true: the cubes actually work to compress what you're packing so that you can get more into the suitcase. In fact, there are even some out there that are made to compact its contents nearly as well as a vacuum bag. As for other benefits, I've found they're incredibly helpful in terms of living out of a suitcase. Instead of digging around and ending up having to rifle through a mess to find a pair of pants after only a day, all you have to do is locate the cube you're looking for and that's that. If you're someone that likes to unpack when they're staying somewhere, they're also amazing for being able to just throw into a drawer—something you can't beat when you're staying in multiple places throughout the course of your trip.
8. Reevaluate Your "Just in Case" Items
One thing I'm always guilty of when I'm getting ready for a long vacation is packing essentially a mini version of my entire home. From first aid items to random tech, though I start out with the best intentions, I inevitably wind up with a decent amount of stuff I'm just not going to use. If this sounds like you (I'm thinking it's most people), take a step back and really look at what you're bringing along, paying special attention to what you know you won't be using every day. Is it a 'just in case' item? And, in the event that you do need it, would you need it immediately or could you swing by a shop to grab it if you did? For the things you do intend to use every day, like that journal or specialty camera, be truthful with yourself. If it's the third time you've taken it with you on a trip and you didn't use it at all previously, chances are it doesn't belong in your suitcase. Apply this same concept to everything you intended to bring along and you can leave with confidence knowing you're already setting off on the best foot possible.
Joe Miragliotta of Joe's Daily is an official Travelocity Gnational Gnomad. Gnational Gnomads is an exclusive group of high-profile travel and lifestyle experts who offer tips and inspiration on behalf of Travelocity.
Travelocity compensates authors for their writings appearing on this site; such compensation may include travel and other costs.