The sexiest beaches around the world come in all shapes and sizes, colors and types; from trendy social scenes and hotspots to remote palm-tree fringed paradises. We've partnered with travel expert Julia Dimon of the blog Travel Junkie Julia to share some of her favorite 'sexy' beaches. A travel influencer who has explored some 80 countries across all seven continents, Julia has scanned the globe, on the hunt for stretches of sand that inspire romance.
Here are my picks for the 11 Sexiest Beaches Around the World:
Copacabana and Ipanema Rio, Brazil
Let's begin our list with the reigning capital of sexy beaches: Copacabana and Ipanema beaches, in unbeatable Brazil. This South American paradise on the Atlantic is one of the world's most popular and provocative stretches of sand. Sip a Caipirinha (Brazil's national cocktail) seaside and watch exotic beauties as they strut their stuff down the sandy runway; from Gisele-look-a-likes sporting tiny 'dental floss' bikinis, to chiseled Adonises passing around the soccer ball. When the sun goes down, bars, and nightclubs that line the promenade keep the party going all night long. If you like your beaches warm and your parties hot, check out the sultry beaches of Copacabana and Ipanema.
Boracay, Philippines
With brochure-worthy beaches, Boracay is the trophy wife of the Philippines. A 30-minute flight from Manila, just off the northwestern tip of Panay Island, Boracay is only five miles long and less than a mile wide, but it ranks high on the list of sexiest beaches. White Beach is the tourist hub, where holiday-makers go to see and be seen. It takes up almost the entire Western side of the island and is best known for its powdery white sand and clear aqua waters. Try your hand at a variety of water sports, including scuba diving and parasailing, or charter a local outrigger boat called a Paraw, for a quick day trip around the island.
Manly Beach, Australia
Though there are dozens of gorgeous beaches lining the golden coasts of Australia, a popular choice among cosmopolitan Sydney-siders is Manly Beach. Like the name implies, there are toned athletic surfer hunks abound. As the saying goes, this beach is "seven miles from Sydney and a thousand miles from care." So sit back, worship the sun, catch some waves, toss back an icy cold beer and overdose on eye-candy. A relaxing getaway with small coves and shimmering Norfolk Pines, Manly promises sizzling sunshine, a cool crowd and a laid-back atmosphere in the Land Down Under.
Maldives
Picture palm-thatched pavilions and secluded seaside bungalows, private oceanfront cabanas lining chalk-white sand and epic infinity pools overlooking a real life paradise. These are the Maldives, a nation of coral islands just north of the Equator in the Indian Ocean. With a huge selection of five-star resorts and opulent luxury accommodations, it's no wonder that these coral-fringed beaches are a haven for honeymooners and romantics. Many of these exclusive resorts are built on their own private tropical islands, promising barefoot freedom and extra private beaches. Soak up the year-round sunshine, snorkel in lagoons and spot manatee rays in their natural habitat as live out your very own escape fantasy in the Maldives, one of the world's sexiest beach destinations.
Grace Bay, Turks and Caicos
Turks and Caicos, an island chain located just below the Bahamas, is made up of nearly 40 different islands and cays, but only a few are inhabited. The result is a secluded Caribbean paradise with some of the world's most pristine beaches and unspoiled nature. One of the country's most beautiful beaches is Grace Bay, featuring 12 miles of sugar white sands stretching from the small town of Leeward to Thompson's Cove. It's not surprising that magazines like Sports Illustrated have chosen to photograph their swimsuit edition in this idyllic setting. Home to the third largest coral reef system on earth, Turks and Caicos is a haven for honeymooners looking to sail along the coast in a catamaran, snorkel in the transparent aqua-blue waters and canoodle alfresco over a candle-lit dinner.
Haad Rin, Thailand
If you're attracted to wild nightlife, energetic party scenes and casual romantic encounters, a beachside rave in Thailand may be for you. Each month when the moon is full, some 20,000 international fun-seekers find themselves at Haad Rin beach on the Island of Ko Phangan for this infamous all-night party simply know as "Full Moon." Young travelers from around the world pound back buckets of cheap local whiskey, get hypnotized by fire-eaters, and dance to the beat of heart-pumping techno. Hopping from bar to bar blasting a cacophony of electronica, you're guaranteed to lose your shoes and gain a new frame of mind along the sandy white beaches.
Malibu, California
If you're looking for some California love, head to one of Tinseltown's sexiest beaches along the famous Pacific Coast Highway. This is where the Santa Monica mountains meet the ocean; where you can sip chilled Chardonnay overlooking a vista of dolphins and migrating gray whales. One of the largest and most popular escapes near Los Angeles, Zuma Beach and El Matador Beach in Malibu boast long wide sands, great surf and a celebrity clientele. Adjacent to million dollar mansions and over-the-top holiday homes, this stretch of sand has been known to attract such celebs as Jennifer Aniston, Jennifer Lopez and Brad Pitt. So if you'd like a side of stargazing with your sand, Malibu is for you.
Bikini Beach Punta del Este, Uruguay
Dubbed the St. Tropez of Uruguay, Punta del Este draws an upscale crowd of models and millionaires, looking to escape the sweltering heat of summer —which begins in December and ends in March. On the southern tip of this underrated South American country, the coastal resort town is where the Buenos Aires elite go to see and be seen. In La Barra, Punta's trendiest neighborhood, a glamorous crowd flirts and flits from beachside chaise lounges at upscale resorts to yachts, chic casinos and nightclubs complete with velvet ropes. Here at the sexy seaside playground of Punta del Este, there's a unique beach vibe for every kind of traveler. Enjoy everything from the fashionable Bikini Beach, where you'll find sun-kissed, bronzed bodies dressed in the latest swimwear, to Jose Ignacio Beach, where international DJ's set up turn tables and tiki torches for "chill-out" sessions in the sand.
Grand Case, St. Martin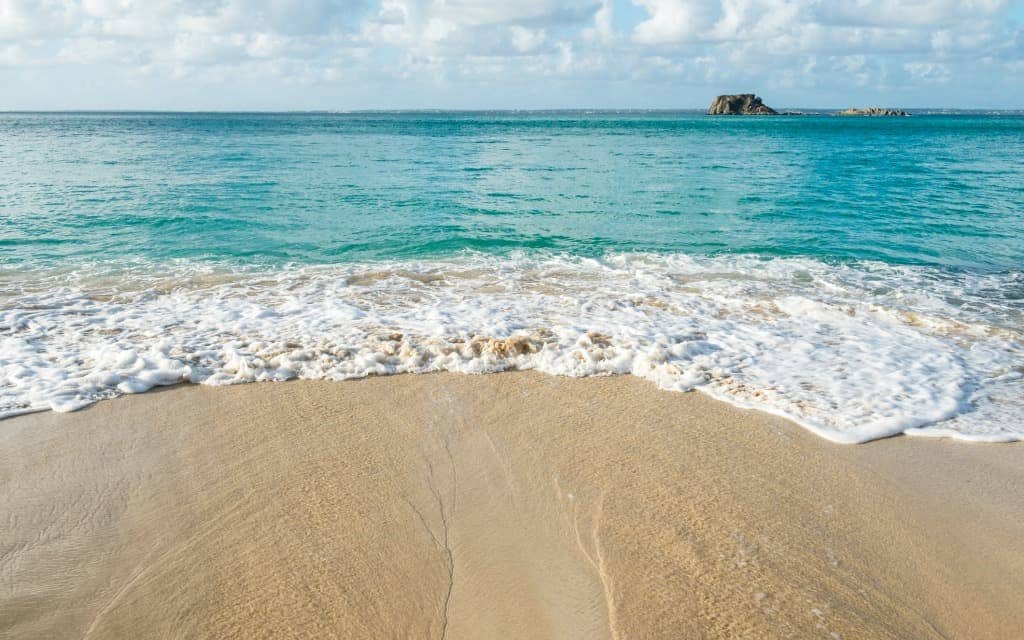 One of the most sophisticated islands in the Caribbean, St. Martin is located 190 miles east of Puerto Rico, and is split 60/40 between France and the Netherlands. This mélange of European culture creates a fusion of history, hedonism and a whole lot of food. One of the most celebrated areas on the island is Grand Case, a former fishing village turned gourmet chef hot spot. Grand Case has become known as the culinary epicenter of the island, if not the entire Caribbean, with a boulevard of gourmet beachside bistros set against a backdrop of turquoise waters. As the saying goes, "the way to the heart is through the stomach," so tantalize your tastebuds, indulge in seaside aphrodisiacs and Grand Case's decadent French dishes. From French cooking to French kissing, this sexy beach town promises a gastronomical getaway that's sure to arouse all your senses.
Oahu's North Shore, Hawaii
Erupting from the depths of the deep-blue Pacific, the volcanic tropical island chain of Hawaii is thousands of miles from the nearest continent … perfect for a secluded beach escape with that special someone. Stretching for more than 7 miles, the beaches of Hawaii's North Shore are famous for their natural beauty, wicked waves and rolling surf. During the summer, the waves are nearly flat and conditions are perfect for beginners, but between October and March waves generated from winter storms travel down from Alaska to create some of the most intense surfing conditions on the planet. It's a legendary mecca that draws surfer hunks on the hunt for the perfect wave. Find your passion among these Polynesian islands.
Red Beach in Santorini, Greece
While there are many beaches on this charming Greek island, the crescent moon shaped Red Beach is one of the most unique. Due to special geographical features and ancient volcanic activity, the shores are red and black. Soaring scarlet lava cliffs and iron-rich sedimentary rocks jet into the clear blue waters of the Agean Sea. Here you're likely to find topless bathers, sprawled out on sun chairs under bright umbrellas, recuperating from last night's debauchery. In the party-heavy summer months, many people rage until sunrise, then go straight from the clubs to this, one of the sexiest beaches in Santorini.
Julia Dimon is an official Travelocity Gnational Gnomad. Gnational Gnomads is an exclusive group of high-profile travel and lifestyle experts who offer tips and inspiration on behalf of Travelocity. For more information on the Travelocity Gnomads, visit TravelocityGnomads.com.
Travelocity compensates authors for their writings appearing on this site; such compensation may include travel and other costs.