Memorial Day is the ideal time to pack the family in the car and hit the road. We've partnered with wanderer and blogger Susan Lanier-Graham of Wander With Wonder to explore California from San Francisco to Monterey.
I love to explore Northern California because of its diversity. You can go from city to ocean to mountains to farmland in just a few miles. Memorial Day is an ideal time for a San Francisco to Monterey road trip. Come along with me as I share my long weekend of California fun.
Day 1 | San Francisco
I started my escape with a short flight to San Francisco. I enjoy flying into SFO because the airport is relatively easy to navigate. We picked up a rental car at the airport and drove the short 30-minute drive into downtown San Francisco, where we had booked a room at the beautiful Loews Regency San Francisco, located right downtown on Sansome Street. The Loews Regency takes "room with a view" to the next level.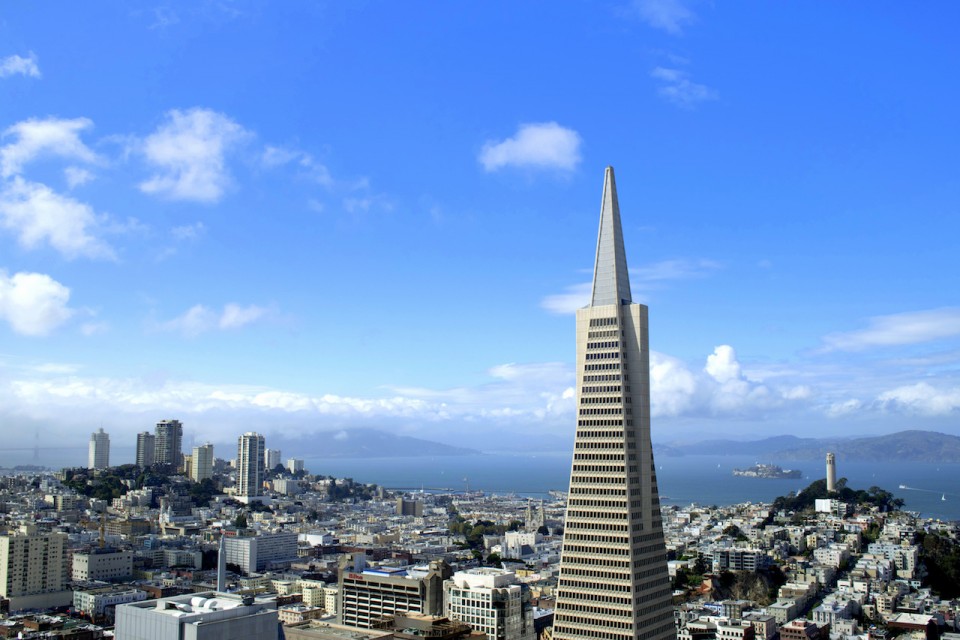 View from my hotel room in San Francisco. Photo by Susan Lanier-Graham
For me, this is an ideal way to start a vacation — luxurious rooms, breathtaking city and bay views, and decadent spa treatments all in the middle of one of my favorite cities in the world.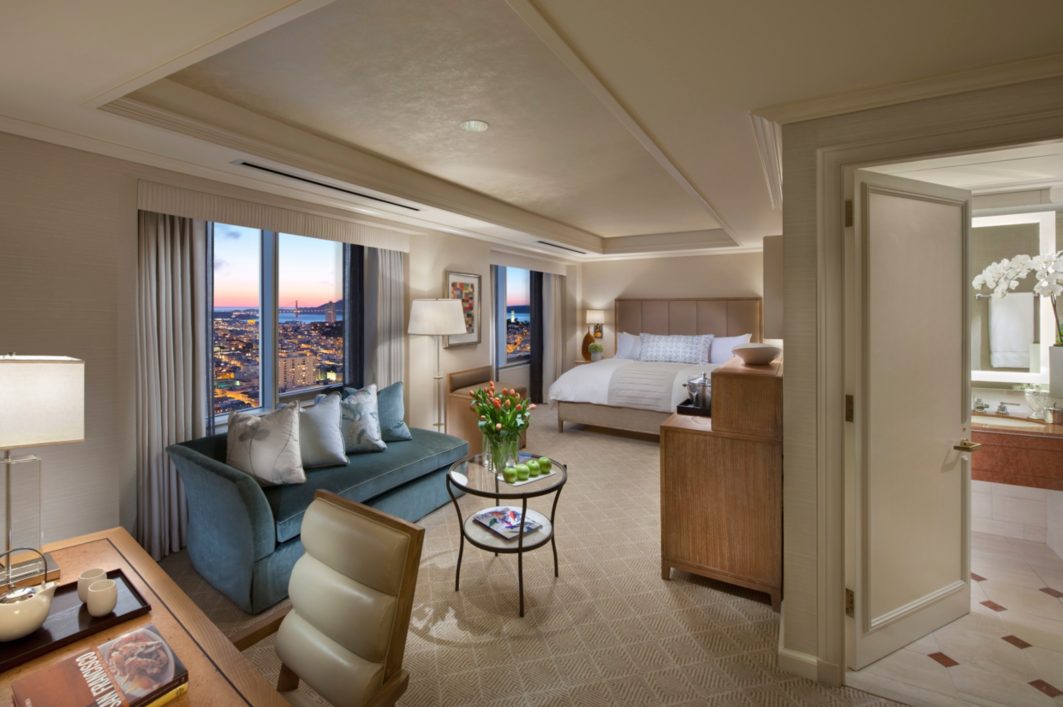 A Bay-view King Room at Loews Regency San Francisco. Photo courtesy Loews Hotels + Resorts
We had a lovely king room with a bay view. It gives you such an amazing perspective on San Francisco when you can look out and see the Transamerica Building, Coit Tower, San Francisco Bay with its bridges, and the city moving below you.
Alcatraz Island as seen from Fisherman's Wharf. Photo by Susan Lanier-Graham
Spend the remainder of your day exploring the city. Just walking along the streets, riding the cable cars, eating in the restaurants and taking a quick jaunt down to Fisherman's Wharf will fill your afternoon with wonder and put you in the perfect relaxation mode to start your vacation weekend. If you have time, I recommend booking one of the sightseeing boat tours with Blue & Gold Fleet. Both the San Francisco Bay Cruise and Escape From Rock cruise are great ways to see the city from the water and learn about the area. They depart multiple times each day from Pier 39.
Day 2 | Down California's Highway One
Start your next day off early by packing up and heading to the San Francisco Botanical Garden. This 55-acre urban garden located inside Golden Gate Park features more than 8,000 plants from all over the world.
San Francisco Botanical Garden. Photo by Susan Lanier-Graham
It is not only a lovely place to stroll, unwind, and enjoy the colors of foliage and blossoms, but it has great open spaces where you can let the kids run before you start out on your road trip down the coast.
San Francisco Botanical Garden. Photo by Susan Lanier-Graham
The botanical garden is located at 9th Avenue and opens at 7:30 a.m. daily. There's convenient parking just inside Golden Gate Park, if you enter on 9th Avenue and Lincoln Way, the garage is the third right. There is a charge of $5 per hour to park on weekends. The garden charges admission of $8 per adult, with discounts for children and seniors. For $17, you can purchase a family admission, good for two adults and all kids under 17 living in the same house. The park offers free entry daily from 7:30-9 a.m. and on the second Tuesday of each month.
Now you are ready to head south on Highway 1 toward the charming town of Carmel-By-The-Sea.
While the drive takes about three hours without stopping, you should plan on all day, with a few stops along the way. Two of my favorite stops are at Half Moon Bay State Beach, Pigeon Point Light Station, and Pescadero State Beach.
Half Moon Bay State Beach is a lovely spot for an afternoon picnic. There are four miles of wide sandy beaches here, making it ideal for a road trip stop. Keep in mind that the water here is always cold, even in summer and dogs are not allowed on the beach.
As you continue south along Highway 1, the road often hugs the coast, making it one of the country's most dramatic drives. Another great stop is about 14 miles south at Pescadero State Beach.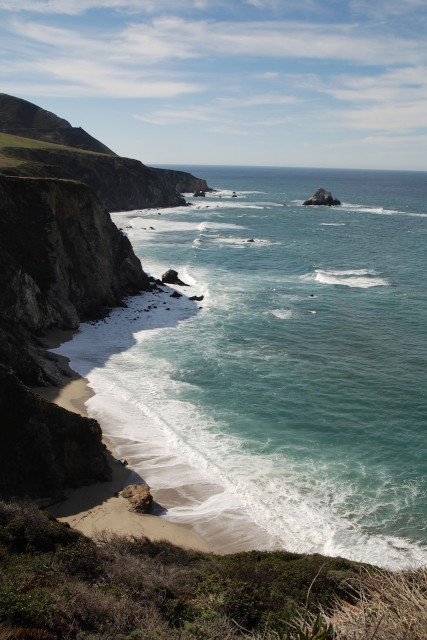 California's Highway 1 runs along the Pacific coast. Photo courtesy California Travel & Tourism
On the ocean side at Pescadero, you can enjoy the rocky outcroppings, a mile of sandy beach, some fun tide pools, and a few picnic tables. Across the highway is the Pescadero Marsh Natural Preserve. This refuge, which is home to an assortment of birds, blue heron, deer, foxes and more, is popular with nature lovers.
After you have some beach time, continue south on Highway 1 for another few miles to the Pigeon Point Light Station Park. While you can no longer go up inside the lighthouse, it is a great spot to explore.
Pigeon Point Lighthouse. Photo by Robert Holmes for California Travel & Tourism
After a day exploring the beaches and driving down the coast, you'll be ready for a relaxing night. The best spot to stay is in Carmel-By-The-Sea. This charming little village has a fun history, is filled with cottages, quaint inns, great restaurants, and some fun little boutiques. We stayed at La Playa Carmel, a beautiful inn just a couple of blocks from the ocean.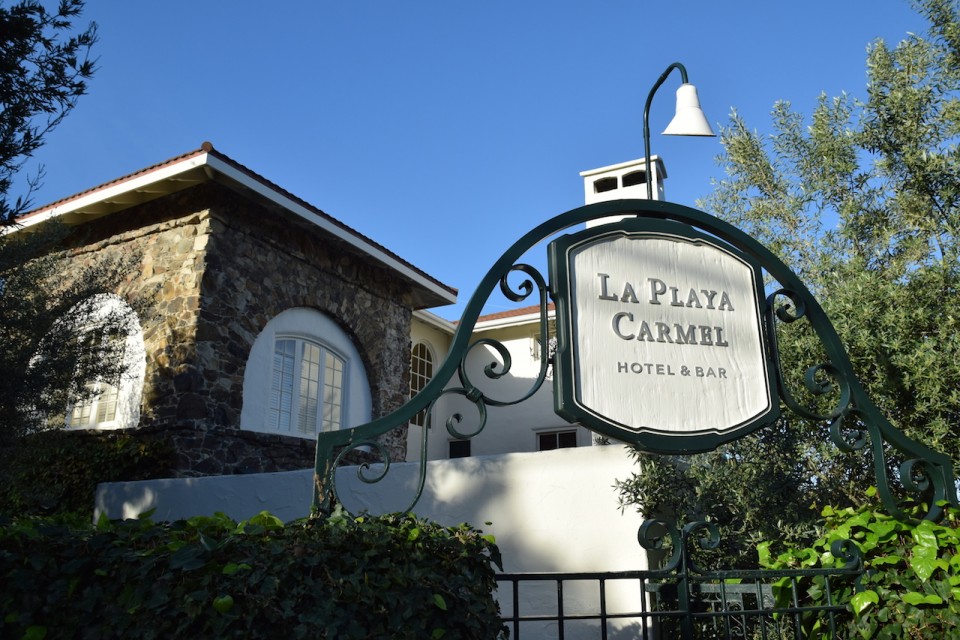 La Playa Carmel. Photo by Susan Lanier-Graham
La Playa was built in 1905 as the luxurious mansion of an artist and his wife. Today, the 75-room historic hotel is filled with charm, making it the perfect spot for you to spend the rest of your weekend on the coast. The rooms with ocean views are my favorites. You can throw open the windows and relax with the sound of the waves crashing on the rocks. La Playa Carmel has a pool, beautiful garden, a daily champagne breakfast buffet, and a wine tasting in the lobby each evening.
Day 3 | Exploring Carmel and Monterey
Point Lobos State Natural Reserve is one must-see just three miles south of Carmel on Highway 1. As long as the weather is not stormy, you can hike, take photos and experience the breathtaking natural beauty from 8 a.m. to 5 p.m. daily.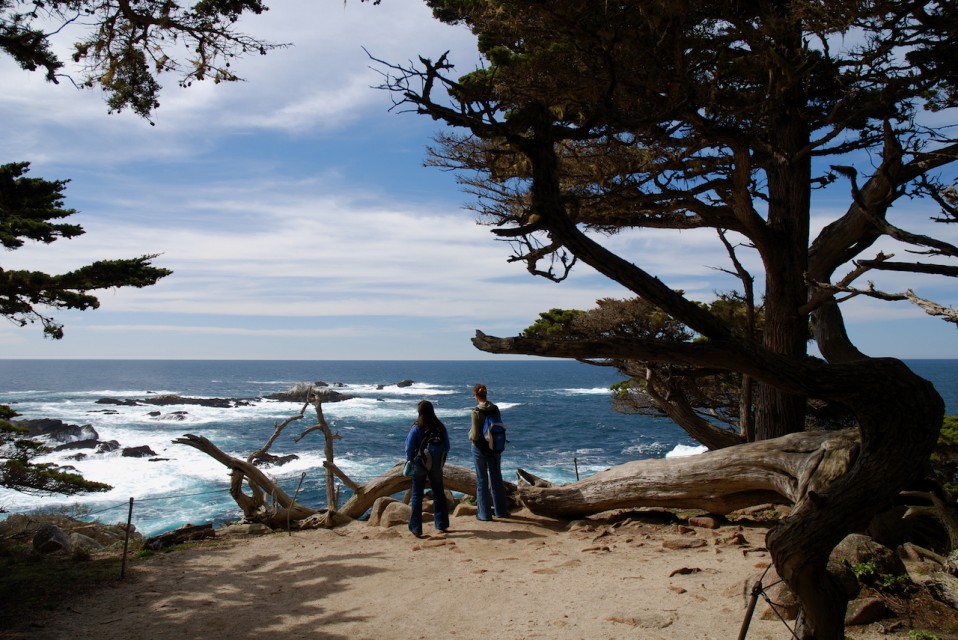 Point Lobos State Natural Reserve. Photo courtesy California Travel & Tourism
Point Lobos is often called the most beautiful of all California's state parks, with its rolling meadows, rocky coves and hiking trails that lead along the shore. As you enter the park, check the day's schedule for a docent-led nature walk.
Point Lobos is popular for those who love to watch the seals, sea lions, sea otters and migrating gray whales that frequent the area between December and May each year.
After a morning hike at Point Lobos, head toward Monterey. The most scenic way to get there is along the 17-Mile Drive that runs through Pacific Grove to Pebble Beach. While not the most direct way to reach Monterey, it's definitely the most scenic as it runs along the dramatic coastline.
The 17-Mile Drive, which costs $10 per car (no motorcycles allowed) takes you through the 5,000-acre Del Monte Forest with its Monterey Cypress trees, past the 250-year-old Lone Cypress hanging on the rocky shore, and past the famed Pebble Beach golf course. Be sure to pick up the self-guided map when you pay your entrance fee. It explains all the stops along the way. Note that the Fanshell overlook is closed from April 1 to June 1 each year for the harbor seal pup season.
Once you make it to Monterey, you must visit the Monterey Bay Aquarium. This is one of the world's best aquariums and you can count on waiting in line to get inside. But it's worth the wait and the $39.95 ticket price (there are discounts available for seniors and children).
Monterey Bay Aquarium. Photo by Susan Lanier-Graham
Not only can you get up close to all those California favorites — such as sea otters, sea lions, and coastal birds — you can learn about sea life in Baja, watch squid from the world's oceans, gaze at the jellies, watch turtles swim past, laugh at the penguins, and learn about a variety of sharks, whales, and fish from the seas.
There are many colorful displays at Monterey Bay Aquarium. Photo by Susan Lanier-Graham
My favorites were watching the penguin feedings, being mesmerized by the jellies, and watching the wild sea lions outside from the aquarium's viewing deck.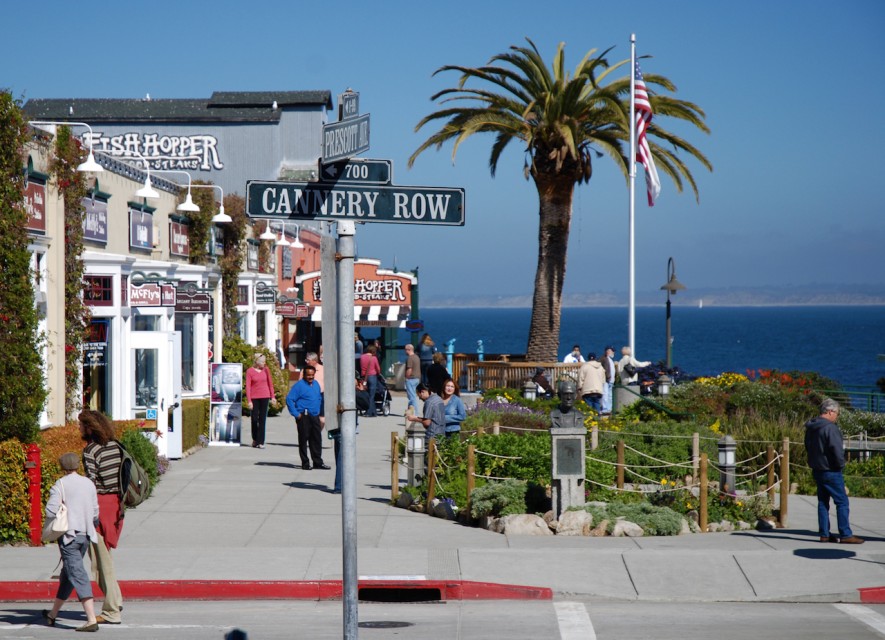 When you've explored as much of the aquarium as you can fit into one afternoon, spend some time strolling through the little shops in Cannery Row. There are little cafés surrounding the aquarium where you can sit, get a bite to eat, and watch the water. The area is known for its amazing farm-fresh bounty, so if you have a hankering for fresh strawberries, this is the place to find them.
Day 4 | Saying Goodbye to California
Before you head out for the small Monterey Airport, spend the morning exploring the fairytale village of Carmel-By-The-Sea with a 2-hour guided walking tour on Gael Gallagher's Carmel Walking Tour. Gael will tell you stories, quote Steinbeck, lead you down secret pathways and into hidden courtyards, showing you the quaint village as only the locals usually see it. This $25 tour is well worth it, and the best way to end your California road trip. You will be forever taken with this beautiful little seaside village.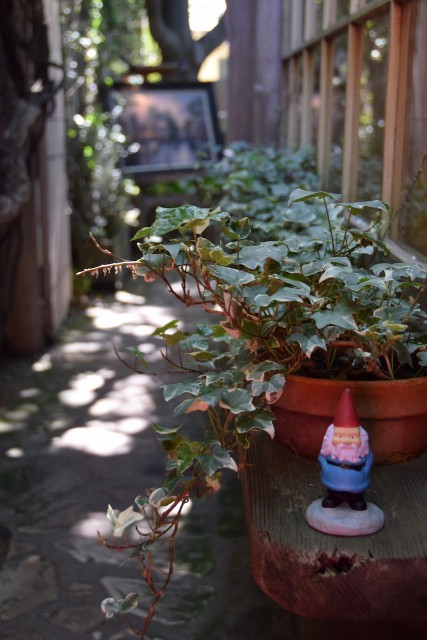 Carmel is filled with magical pathways and hidden courtyards. Photo by Susan Lanier-Graham
The Monterey Airport is less than 15 minutes from Carmel-By-The-Sea. It is small and friendly, and reminds you why California's Central Coast is an amazing place for an escape.
Susan Lanier-Graham is an official Travelocity Gnational Gnomad. Gnational Gnomads is an exclusive group of high-profile travel and lifestyle experts who offer tips and inspiration on behalf of Travelocity. For more information on the Travelocity Gnomads visit travelocitygnomads.com.
Travelocity compensates authors for their writings appearing on this site; such compensation may include travel and other costs.