Nevis Bungy - Australasia's Highest Bungy Jump
By AJ Hackett Bungy New Zealand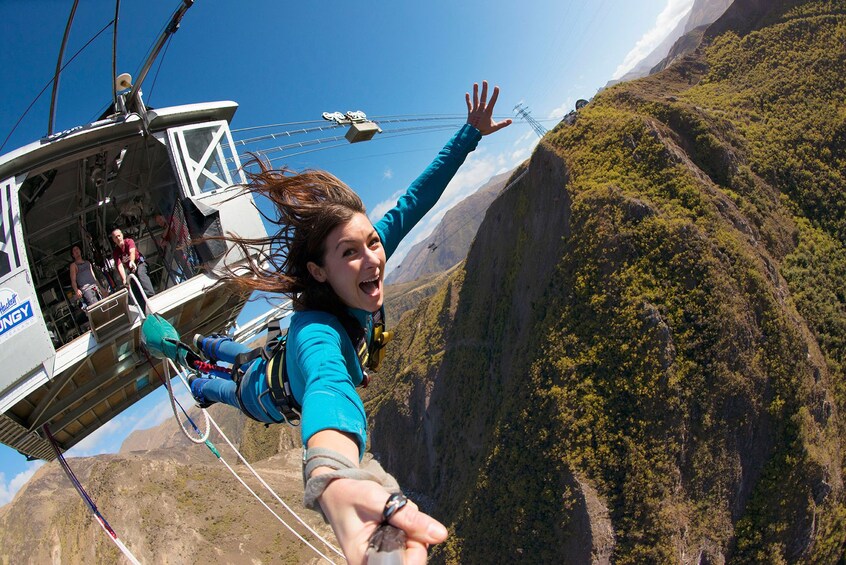 HEIGHT 134 METRES (439ft), AUSTRALASIA'S HIGHEST BUNGY

8.5 SECONDS OF EXHILIRATING FREEFALL

SERIOUS GROUND RUSH IN THE RUGGED NEVIS VALLEY

BREATH-TAKING CABLE CAR RIDE JUST TO GET TO THE JUMP POD

THE ULTIMATE CHALLENGE TO PUSH YOU OUT OF YOUR COMFORT ZONE!
About this activity
What's included, what's not
Nevis Bungy

Jump certificate

Authentic Bungy Jumper T-shirt

Return transport from the Queenstown Bungy Centre, Corner of Shotover and Camp Streets, dow

Photo and Video packs are optional extras available for purchase after your activity
Trip duration: 4 hours round trip

Location: The Nevis is on private land so our transport must be taken and is available from 'The Station Building', corner of Shotover & Camp Streets in the centre of Queenstown, bookings are essential.

Age: Min 13 yrs (Children 14 and under need to be accompanied by an adult)

Weight: Min 45kg - Max 127kg (100-279lbs)

Medical Conditions: These are a case by case basis so please talk to the AJ Hackett team if you have a medical condition, pregnant women are unable to Bungy (refer to bungy.co.nz/safety for more information)

Spectators: Spectator charge of NZD50 per person bookings essential
COVID-19 UPDATE - Please note that this activity is closed as of 24 March 2020 until further notice. We expect this to be for a minimum of four weeks.
BUNGY'S GOLIATH It's big, it's bad – and conquering it is kick-ass. At 134m (439ft), it's New Zealand's highest Bungy, and with a free fall of 8.5 seconds, it takes guts to do it. Set in the remote Nevis Valley, you'll get there by Bungy 4WD before a short sky-high shuttle ride to the jump pod and your ultimate challenge.
SAFETY COMES FIRST – ALWAYS The Bungy originals, we've been doing this stuff for 30 years and our crew is the most experienced in the world. We were the first to be awarded an 'S' mark for exceptional safety, and safety is at the heart of everything we do. Our impeccable safety record puts your safety – and wellbeing – first. That's why we will NEVER compromise on safety and never push. We want you to own your own lifechanging experience.
REMEMBER WHEN YOU THOUGHT YOU COULDN'T DO IT. WHEN YOU WERE TOO NERVOUS, TOO TIMID, TOO SCARED. THIS WAS NOT FOR YOU. YOU WANTED TO BACK OUT. BUT YOU DIDN'T. YOU TOOK A DEEP BREATH AND STEPPED FORWARD. BECAUSE IF YOU CAN DO THIS, YOU CAN DO ANYTHING.
LIVE MORE. FEAR LESS